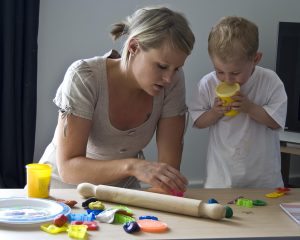 In Honor of National Nanny Recognition Week (September 20-26th) we have come up with a list of 5 ways you can make your nanny feel appreciated! Nannies have a heart of gold and spend their days shaping the hearts and minds of the little charges in their life. A simple thanks can go a long way in reminding them that all the big and small things they do each day are noticed and appreciated!
Say thank you verbally or in a note. Most nannies are people pleasers at heart and knowing you appreciate their hard work is worth more than you might think. It's especially appreciated when you point out something specific, for example "I appreciate the way you are always so kind and patient with Nathan" or "Thank you so much for folding that load of laundry" or "Thanks for taking Sienna to the zoo today, she had so much fun!" These are simple ways to let your nanny know you see the way they care for your children and your home each day and you are thankful for them.
Treat them to lunch. It's always a treat when a nanny has something more exciting than peanut butter and jelly or the brown bag lunch they brought from home. With new options like Postmates, Bite Squad, and Munchery it's easier than ever to have a delicious meal delivered to your door! If you don't have these options in your area you can always have local take-out or pizza delivered. Food can often be a way to your nanny's heart!
Surprise them with a few of their favorite things. Observe what your nanny eats and what they talk about to discover what is meaningful to them. Do they love dark chocolate? Have a latte every morning? Go to Target on the weekends? Enjoy going to the movies? Take note of those little hints they give you and surprise them with the item or a gift card that will speak their specific love language. Not only will they appreciate the gift, but the fact that you really know and care about them will mean even more.
Give them an afternoon off. Who doesn't love getting unexpected time off of work!? No matter how much your nanny loves your kids, they will definitely appreciate an afternoon to themselves. To spoil them even further you could give them something pampering to do during their time off. For example, "You only need to work until noon tomorrow, I have a massage booked for you at 1pm" Of course an afternoon off isn't a gift if you don't pay them for the full day of work as well!
Gift them something they can use at work. Take note of what your nanny might like to make their job easier. A new travel mug or water bottle? A pair of cozy slippers to keep and use while in your home? A new bag to hold all their nanny gear? This is again where you have to do your homework to pay attention to what your nanny could use. It's worth the effort because they will think of you each time they use the gift.
Last but not least, a handwritten note or picture from your child(ren) either as the gift itself or in addition to any of the other suggestions listed above will guarantee to melt your nanny's heart! Just remember a little appreciation can go a long way in making your nanny feel valued. If one of the above ideas didn't strike your fancy, check out this article for additional inspiration!
Image: Feature Image / Flickr
[ss_social_share]