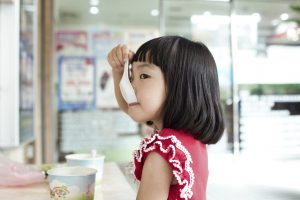 We are thrilled to share a list of kid-friendly restaurants focusing on the Eastside! This post was inspired by our previous blog post  '7 Seattle Restaurants That Are Perfect for Children.'  While Seattle may be well known for it's food scene, the Eastside shouldn't be overlooked if you are wanting to get out for a delicious meal with the whole family! Many Eastside restaurants are kid-friendly and as a bonus offer easier (and often free!) parking. While there are many popular chain restaurants on the Eastside, we are confident these 7 local kid-friendly Eastside eateries are sure to be a hit!
1. Acropolis in Kirkland
Family owned and operated since 1973, Acropolis boasts the best grinders and pizza in town and a good sized kids' menu to boot! With a parking lot and free parking on the street this family friendly restaurant is a winner! When you are done with dinner you can head to Peter Kirk Park, Marina Park, or downtown shopping which are all in close proximity.
2. Chace's Pancake Corral in Bellevue
Chace's Pancake Corral has been an Eastside staple since 1958 and is family owned and operated. Any kid would be excited about the huge variety of pancakes they offer, including their famed potato pancakes with sour cream and banana pancakes with coconut syrup. Parents will appreciate the reasonable prices and quick service. It's no secret Chace's aims to please, so expect a wait on weekends.
3. Sammamish Café in Sammamish
If you are looking for tasty comfort food look no further! Sammamish Café serves breakfast, lunch and dinner and has a good sized menu the whole family can get excited about. The fishing décor also makes this spot popular with families. If you have a sweet tooth, make sure to try one of their football sized cinnamon rolls or a slice of their pie of the day!
4. Belle Pastry in Bellevue
If you are looking for a delicious treat look no further than Belle Pastry! Children are sure to be delighted by their colorful macaroons and other confections. Parents will appreciate the flaky pastries and strong coffee. They also offer a variety of breakfast and lunch options if you are in the mood for something heavier than a snack.
5. The Islander on Mercer Island
If you are looking for a meal that won't break the bank you have to check out the The Islander where kids 12 and under eat free on Sundays! The kids will feel all grown up with their own menu with a variety of options, including their famous fish and chips. The adults can enjoy the americana menu and sip one of the local wines or beers on tap. On a sunny day they also have an awesome outdoor patio!
6. Pogacha in Issaquah
Parents and kids are sure to appreciate the wide selection of options at Pogacha including pasta, salads, flatbread pizza, seafood and the house specialty, "the purple dish." While there isn't an explicit kid menu, the chefs are willing to make any dish kid-friendly. While you are waiting for your food to arrive, take out the crayons and doodle on the paper-topped tables! Pogacha also has two Bellevue locations, but we are highlighting the Issaquah location because they accept the Passport dining card- a bonus for Microsoft families!
7. Issaquah Coffee Company in Issaquah
Enjoy a delicious cup of Joe from Stumptown Roasters as your kiddos enjoy the kids' play area at Issaquah Coffee Company in quaint Gilman Village. This is a great spot for any families with food allergies, as they also carry Flying Apron Pasteries that are gluten free, vegan and organic. Another bonus, they also have free Wi-Fi!
Image: Featured Image/ Flickr
[ss_social_share]