We are pleased to honor Katie—one of our very own backup care nannies—as this month's Nanny spotlight! She boasts one of the highest customer satisfaction rating month over month and is loved by everyone who has the pleasure of her caring for their children. Katie, we are so fortunate to have you on the team!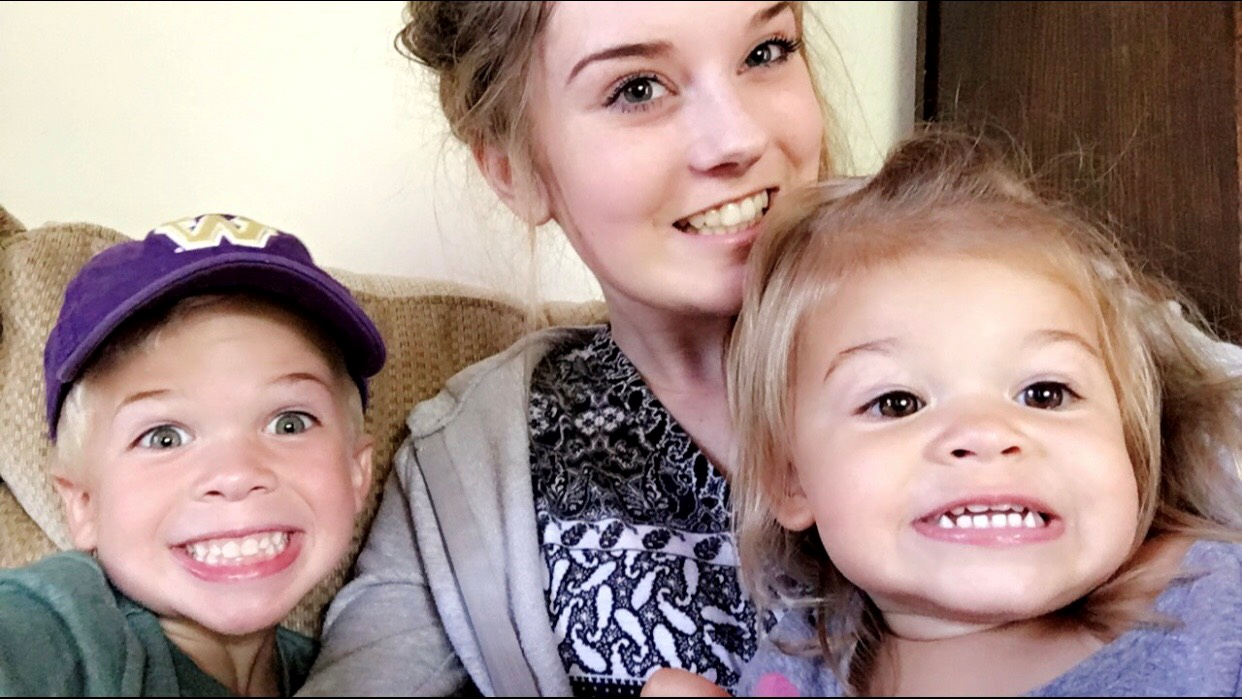 Describe your background and education in the childcare realm and beyond.
While completing my Associate's Degree online at Olympic College in Bremerton, Washington I spent much of my free time helping my incredibly busy sister raise her child, Faith. We did everything together including going to beaches, parks, and the library nearly every day, and I had the opportunity to teach her so much. I taught her many of her first words, all the letters in the alphabet and to count to 100. While I'm not quite ready to have kids yet, I found myself really enjoying the time that I spent with my niece, so I decided to pursue a career in childcare. I have fond memories of the place that I went to daycare at so my first thought was to return! During my time spent there, I worked with 10-12 kids at a time ranging from 3 months all the way to 10 years old. I supervised, cooked meals, and took everyone on field trips to the park, restaurants, and museums! Additionally, I taught preschool classes to ages 2 ½-4.
What is your favorite part about being a nanny?
I love teaching kids and watching them grow! It's so fun to watch and teach young children to learn new things and I believe it's fun for them too! Every day is an opportunity for a child to gain knowledge or a new skill and it warms my heart to be a part of that. There is never a dull moment when it comes time to spending time with kids. Being able to call this my job and spend my days doing it makes me incredibly happy!
Describe your childcare philosophy.
When it comes to taking care of a child there are several things to ALWAYS keep in mind. For starters, you have to be a gentle and caring person. Not act like one, but BE one. You also have to be a calm and patient person; you cannot be quick to get emotional. A child's reaction depends on your reaction. Kids are always growing so you have to be mindful of their understanding of the world and you have to explain things in a way that they will understand. Sometimes people will forget to keep the child's understanding of the world in mind which can lead to a disconnect in communication with the child and unwanted behavior. When children do misbehave, it is most important to use positive reinforcement and to teach them what they did wrong and why and how to handle the situation better next time. Finally, it is important to remember that these children will often times look up to you, so you must always represent yourself in manner that you would expect from the children. This means being polite, using your manners, talking nicely and being considerate of others.
For young adults who are seeking a nanny position but have little child care experience, what advice do you have for them on landing their first nanny job?
My advice would be to be patient, and to be warm. Parents or business professionals are looking for someone who is passionate, patient, and kind to take care of their child. You also have to show that you are a trustworthy person and that the parents should not have any fears with their child/children in your hands. With having little or no child care experience, it can be extremely difficult to get a parent or a business professional to consider you because, of course, they want someone that really knows what they're doing when it comes to taking care of children. To get started, if you have a family member or a close friend that has a child, you can ask if you could babysit while the parents are home and gradually work your way up to watching the child while they are away. Doing this for a few months would likely get you the exposure you need to land your first child care opportunity!
What are your hobbies and passions outside of being a nanny?
My hobbies include photography and exploring new places! I've recently moved to Seattle and so much of the city is new to me so I love spending my weekends finding new places to visit and take photos of! Some of my favorite places are Lincoln Park, Golden Gardens Beach, and Discovery Park. Additionally, the love and passion I have for my dog is incredible! While my hobbies include photography and exploring new places, I always bring my dog along, too. I go where I can take my Mini Aussie, Millie, and she is my muse! All of my photos incorporate her in some way!
Please share a funny or interesting fact about you! I've met President Barack Obama!
I was visiting my family on the east coast and we toured the White House. I was definitely not expecting to actually see him face-to-face, but as we walked into one of the rooms, he was standing at the door to greet us! He shook everyone in my group's hand! After that, he introduced his family and talked to our group for about 30 minutes! It was an amazing and unforgettable experience!
[ss_social_share]