Did you know that most grocery stores have a Free Fruit Program for kids!? That's right, most stores offer one piece of fruit per child for them to enjoy while you shop. For anyone who has had to wander the grocery aisle with a whiny, hungry child this is music to your ears! Go ahead, do a little happy dance…
Each grocery store has different guidelines for their kid program, so be sure to ask customer service if you aren't sure of a particular store's policy.
Below we have listed the Free Fruit Programs for the most popular grocery stores in the Seattle area! Some stores are just starting up their programs, so keep checking back if your favorite store doesn't currently have one set up.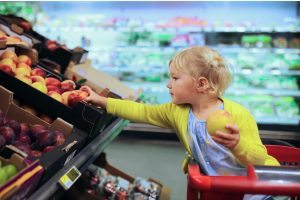 Whole Foods: "Every time you bring your kids with you to the store, stop at Customer Service and pickup a Kids' Club Coupon good for a complimentary organic apple, 100% Organic fruit leather, or natural animal crackers.  We want your visit to be as simple as possible!" http://www.wholefoodsmarket.com/service/kids-club-0
PCC: "Kids ages 12 and under enjoy a free serving of a fruit or vegetable every time they visit PCC. Just let the produce staff know what your child would like to try and we'll wash and cut it so it can be eaten while you shop. Encourage your children to give a variety of items a try and they'll be enjoying a rainbow of produce in no time!" http://www.pccnaturalmarkets.com/healthykids/free_fruit.html
Safeway: We couldn't find anything on Safeway's website about their kid fruit program, but have been told you can ask for a banana card and it is good for one banana per child every time you shop at Safeway. The only restriction is that the maximum price cannot exceed $1.00. You need to present your card and banana at check out. http://thenorthwestmomma.com/2015/07/25/free-fruit-card-at-safeway/
QFC: They just started up a kid fruit program and you can look for a box labeled "Kid Fruit" in the produce section. They offer produce such as bananas, apples, and oranges. If you don't see a box out, please ask someone in the produce section for help.
Fred Meyer: They are also just rolling out a kid fruit program. Keep you eyes peeled for a fruit bin and feel free to ask their produce staff for more information!
Happy shopping in peace while your kiddo enjoys a healthy snack!
Image: Gif/Giphy
[ss_social_share]