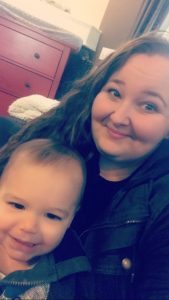 Congratulations to our January Nanny Spotlight recipient, the amazing Sophie De Haan!  Sophie has been one of our Seattle Seahawks nannies, and has been a part of our amazing Temp team since 2015!
Get to Know Sophie:
1. Describe your background and education in the childcare realm and beyond.
I started babysitting when I was 12 years old (14 years ago) and loved working with children! I went to college with the hope of becoming a pediatrician. While attending college, I received training to work with children on the autism spectrum and worked as a nanny throughout college. I majored in Psychology and took classes in childhood development, special education, etc. While I was in college in Jackson, MS, I volunteered with at-risk youth at a residential facility. My passion to work with and help children continued to grow. I moved to Seattle in August 2015 to get my Master's degree in Clinical Mental Health Counseling and plan to work with youth in foster care and in juvenile detention. Being a nanny in Seattle while I'm in school gives me the chance to hang out with amazing children all the time.
2. What is your favorite part about being a nanny?
I love seeing how creative, intelligent, and fun kids are! I learn so much from the children and their outlooks as they discover the world around them. Plus, I get to do all the cool things I haven't done since I was a kid; like finger paint, play in the dirt, dress up, play make believe, and make silly concoctions in the kitchen!
3. Describe your childcare philosophy.
I believe kids should be kids and should be able to play, even while learning. I implement structure and rules and mutual respect which, in my experience, work well with the children I nanny.
4.What are your hobbies and passions outside of being a nanny?
I love doing half marathons and triathlons and just being outdoors. I'm learning to paint and enjoy doing a lot of DIY crafting! I have a sweet Golden Retriever (Sasha) and we love going to the dog park! I also love travelling and try to make time for a trip, even locally, once a month.
5. Please share a funny or interesting fact about you.
I earned my black belt in Tae Kwon Do when I was 14!
"Sophie DeHaan has been a nanny for my twin boys since they were 6 mos old (June 2016), they are now 1 yo.  We feel like she is part of our extended family.  Sophie is smart, kind, funny, responsible, and the twins love her.  She has a calmness about her and a unique, effective way of speaking to the boys as if they are older than they are which is a great compliment.  She is also a big help with all of the extra baby tasks. My husband and I trusted Sophie so much with both kids the first time she stayed with them that we went out for a rare date lunch.  We look forward to the next time that Sophie watches our twins."  
-Jill O.
Keep wowing 'em, Sophie!