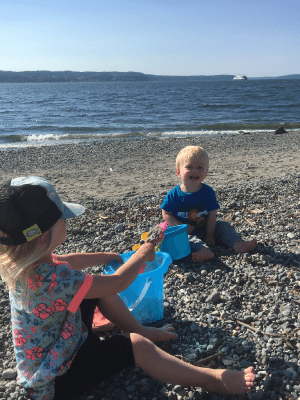 Kristin's kids PNW beachin' it this summer—hence no bathing suits.
August always comes with mixed emotions for me—it's the last full month of the summer which means days are starting to get shorter and the end of summer is lurking. At the same time, it boasts the summer's hottest and summeriest days. Is summeriest a word? Sure, why not! If you're like me you probably have a long list of summer fun ideas to check off the bucket list but somehow managed to save them all for August because you were waiting for that perfect weather. The time is now! If you're looking for more ideas to add to your summer fun list, check out my top 10 for August. I hope you have the summeriest time this month!
Seafair Weekend – August 4th-6th with family friendly activities and the best views of speedy powerboat races and the roaring Blue Angels from Gennessee Park. A Pacific Northwest tradition since 1950, Seafair Weekend is the culmination of the Seafair Festival. Dubbed by some as an unofficial Seattle holiday, this is the most anticipated event of summer. Seafair Weekend offers a kaleidoscope of sights, sounds, tastes and action. With boat racing on the water, aerobatic performers in the sky, live music and delicious food on land, the best place to experience Seafair Weekend is at Genesee Park on Lake Washington! 
35th Annual Northwest Model Boat Regatta—August 5th from 9a-4p in Bellevue. In other Seafair celebrations, hit the open waters of downtown Bellevue to observe and cheer on your favorite skipper (or participate as a skipper yourself!). After this past weekend's inflatable raft boating excursion in the choppy Saratoga Passage, I think we'd prefer to sit on the sidelines for this one.  A large variety of radio controlled model boats on display and running on a challenging navigation course.
Kite Festival –August 5th from 10a-3p in University Place. Let's go fly a kite up to the highest heights! While I personally have an irrational fear of kites darting down and striking me in the head, I still recommend this festival! I love anything that gets us outside and the busy half of my family (the doers) can build while the chill half (the relaxers) can sit and watch with plenty to see. The entire family will be captivated by amazing kite demonstrations, family kite flying, face painting, and more! Bring your kites, blankets and cameras and get ready for a day full of fun! The first 250 kids will have an opportunity to make their own kites, compliments of the Pierce County Kitefliers Association!
Camp S'More Family Campout—August 5th at 3p—August 6th at 10a at Lake Sammamish State Park. If you are attempting to ease your littles into the camping experience, this is a low risk evening with planned activities and close proximity to home if that whole sleeping thing goes sideways. Camp S'more is for first time campers or experienced pros who want a night out under the stars. All you need to bring is a sleeping bag, your tent (or RV) and bedding. A BBQ dinner and light breakfast will be served.
Caspar Babypants at Pike Place Market –August 12th at 6pm at the New Pike Place Marketfront Pavilion. Run, Baby, Run to this ultimate Seattle concert experience. Seattle's favorite kiddie band (well, I can't speak for all of Seattle but he's my personal favorite kiddie band) + the brand new Pike Place Market! Parking is only $5 after 5pm in the Public Market Garage and you can take the elevator to the performance area.
The Kind Fest—August 12th in Snohomish. My house motto comes from one of my favorites Ralph Waldo Emerson, "Be Silly. Be Honest. Be Kind." I love that there is a festival dedicated to much needed opportunity to instill kindness in our community and particularly in our youth. The Kind Fest is a playfuland inclusive community gathering where we will spread kindness like confetti!  On August 12th, at Willis D. Tucker Community Park in Snohomish, adults and kids will experience and learn about the power of kindness through the arts, music, interactive experiences, and heart centered speakers.
35th Annual A Taste of Edmonds—August 11th-13th at the Civic Playfield. This festival attracts me because I'm a cornhole fanatic and this festival has a serious tourney! Plus, it has tons for the kids including kid's music, karaoke, family game shows, reptiles, dancing, watermelon eating contests, rides, and more. And of course, really good food. Three days of food, music, vendors, rides, beer/wine and fun. Voted one of the "Top 100 North American Festivals", there's fun for everyone. Mark your calendars and get ready.
Summer Splash at Green Lake—August 19th from 9a-3p. Visiting Green Lake is a regular outing for our summer mornings and while we'd usually shy away from activities that pack the lake, this one was super fun last year and I'd definitely go back. They have tons of kid friendly interactive booths to make it a full day outing. Plus, the El Camion food truck with be there so enough said. The day is jammed packed with fun, including a family fun fair with exciting vendors, a mini rowing regatta featuring local corporate teams, and an opportunity to try water sports including canoeing, kayaking, rowing & paddle boarding. Bring your kids, grand-kids and dogs on down to the lake for some fun in the sun!
Celebrate Shoreline's Sandcastle Contest—August 20th from 11:15a-2:30p. My son would still rather put the sand in his mouth, but this is the next best thing. All you need to bring are sand toys and the beach will provide the sand! As a Californian in my past life, I'm always on the quest for a sandy beach in the summer so I'm interested in checking out Richmond Beach. Don't forget the brilliant baby powder mom hack to get all of the sand off of the kids! Get ready to dig in! Bring the entire family to the Sandcastle Contest at Richmond Beach Saltwater Park on Sunday, August 21. With a little imagination and a lot of sand, Richmond Beach transforms into a series of sandcastles and sculptures. Judges will vote for the top entries in the "Adult/Family" and "Kids 12 & Under" categories.
Free Entrance to the National Parks & Washington State Parks—August 25th. It's the National Park Service's 101st Birthday this month so the national and state parks are giving back to celebrate! National parks are America's Best Idea, and there are more than 400 parks availableto everyone, every day. The fee-free days provide a great opportunity to visit a new place or an old favorite, especially one of the national parks that normally charge an entrance fee. Washington State Parks offers several "free days" when a Discover Pass is not required to visit a state park.
[ss_social_share]