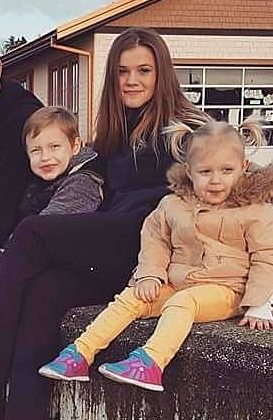 We are pleased to honor Nataliya—one of our very own Backup Care Nannies—as this month's Nanny Spotlight!
Not only is Nataliya known for her prompt introductory calls, informative questions, and leaving a great first impression with every family, but she truly exemplifies what it means to be a fantastic nanny! Families cannot stop raving about how much children love her, how prepared she is for care, and of course all of her amazing crafts and activities! Time and time again, families take the time to write follow-up emails expressing their love for Nataliya as an wonderful nanny. Nataliya has achieved and maintained 100% Customer Satisfaction rating and is frequently requested back!  Nataliya, we are so thankful for your continuous hard-work and dedication to the families and children you work with everyday. We are so pleased to honor you this month in our Nanny Spotlight and can't wait to see you positively impact many more families in the future!
Describe your background and education in the childcare realm and beyond.
I have been around children my whole life from volunteering at church daycares to babysitting personally, as well as working at a couple different daycares.
What is your favorite part about being a nanny?
I have always loved being around children. They teach me as I teach them. I love seeing their desire to learn and try new things, it makes me challenge myself. Best of all, they make me laugh!
Describe your childcare philosophy.
I believe we can always learn from a child. I believe each interaction with a child is an opportunity to learn, understand, and teach new things. I also believe every person regardless of age deserves to be treated with respect.  I want each child that I care for to have a welcoming and comfortable experience, while ensuring their safety throughout.
What are your hobbies and passions outside of being a nanny?
I am very active and love outdoors. Some of my hobbies include snowboarding and hiking/camping trips. I have recently joined MMA and am getting pretty passionate about it!
What is an interesting or fun fact about yourself?
An interesting fact about me is that I come from a family of 13!
Here are a few things our backup care clients have said about Nataliya lately:
"Nataliya was really on the ball. She contacted me shorty (less than 30 minutes) after the care was confirmed and asked great questions to prepare herself for watching our kids. On the day of care, she came prepared and even brought her own art projects to do with the kids. She spent the whole day enthusiastically with the kids and even wrote a short note about all the things they did. My kids were sad to see her leave at the end of the day. We'll definitely be requesting her next time we need backup care."
"She is by far the best nanny we've ever had. Our kids were begging her to come back tomorrow. Not only that, but she got them to help with chores and helped clean their rooms."
"She is hands-down the best babysitter we've ever had. She does creative arts and crafts with the kids, gets them outside and active, she gets the kids to do chores around the house, and the kids love her."
[ss_social_share]