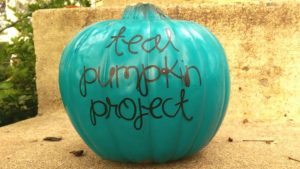 Have you seen teal colored pumpkins pop up in your neighborhood? I saw one at a neighbors house and had to do a quick Google search, here is what I found:
Teal is the color for the Food Allergy Research and Education group who is running the Teal Pumpkin Project. They are encouraging families to give out non-food items on Halloween instead of candy. The goal is to include  kids who have allergies in the Halloween fun — I think we all know at least one kid with severe food allergies.
You can join this project by simply painting one of your pumpkins teal to symbolize that your house is participating! Their website is full of inexpensive ideas for goodies you can pass out instead of candy; I also found some great ideas on Pinterest for different items to hand out and how to creatively add teal into your fall motif. The website also has posters you can hang on your door or pass along to friends who may want to participate. Not only will you make every child happy and feel included, but you will keep them from that inevitable sugar high!
I was at the store last night and made the decision to participate, as my nephew Logan has a peanut allergy, and I bought miniature containers of Halloween play dough to hand out in lieu of candy. I also bought teal spray paint to paint one of my pumpkins for the front porch! Are you going to participate? Feel free to leave a comment below if you are participating and what you plan to hand out!
[ss_social_share]