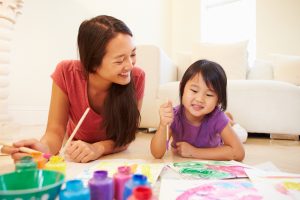 Whether you've already been living those nanny life goals, or interested in diving into the childcare field, one thing is for certain: We've got you covered. There are a lot of ways you can go about looking for and finding nannies and nanny jobs, as there are lots in need, no matter what time of year! For many reasons, a few we've listed below, that it's most beneficial for both nanny and family to connect through an agency.
If you're unfamiliar with nanny placement agencies and the process that comes with them, no worries! Here's 7 reasons to help paint the picture of why nannying through an agency is the best option for you:
Experience: Nanny placements is what we do! Every family is different, so our goal is to place the best nanny for the family's unique situation. Our years of experience and knowledge of industry trends help us be the best advocate for you. We know the ins and outs of every facet of contracts, salary, and other things you will negotiate. We'll help make sure you are getting a fair deal for both you and the family. We've got your back!
Safety: There are a lot of places to look for a nanny job, especially online. And most of the time, those outlets can't guarantee nannies or families safe and reliable options. With an agency, we take the most important, responsible and necessary steps in finding the most qualified nannies and families: background checks, driving records, speaking with multiple references, and assessing experience levels. We also work hard to find responsible and caring families to work with, leaving you feeling safe and confident in your placements.
Finding the Best Fit: Have you interviewed with multiple families and can't seem to find the right fit? Lucky for everyone, agencies take the time to get to know both nannies and families personally, learning about what kind of person you are and what you love most in life. With that information, we can match you with the family that you'll fit best with.
Options: New jobs come to us every day and they come with lots of variety. Whether you are looking for a long-term placement or just part time, we can help get you placed quickly. We'll work with you to find the schedule that's right for you. Plus, not only do we have a steady stream of jobs, but we do all of the leg work so you can just go and get paid to play.
Extras: When looking for a nanny job outside of an agency, you take the chance of not getting the best scenario you can get, such as great pay, paid holidays, and other perks. We want to make sure you're taken care of, because both nannies and our families deserve it! We give families the peace of mind that they are being matched with a nanny that is qualified, loves their job, and is vetted.
We understand: As a nanny agency, we understand the nanny life! We understand that it's both challenging and rewarding work, and that it's the best kind out there. We understand that trust between you and the family is such an important part a successful placement, and we can provide trustworthy connections. Our goal is to take difficulty out of the process, so that it's positive for everyone involved.
Community: When you join an agency, you become part of our community! We have answers to your questions, we have the patience to guide you through the process, we have the knowledge of what it requites to be a nanny, and ultimately, we share with you the love of childcare. We are here for you, through the job placement, interviews and contracts, as well as after you are placed.
If you're ready to get started on your nanny journey, please apply with us! We're excited to work with you.
[ss_social_share]