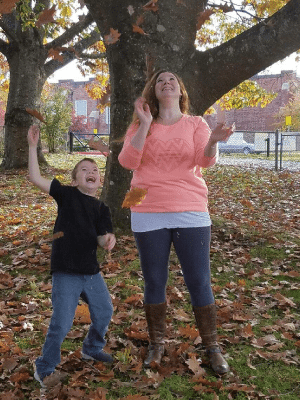 "[Genny is a] fun, caring and responsible person to be in company of your child!"
We are pleased to honor Genny—one of our very own backup care nannies—as this month's spotlight! Not only does Genny boast the highest customer satisfaction rating month over month in our backup care department, she is a true leader on our nanny team! She brings our nanny team together by sharing fun ideas and supporting and recognizing others.  She recently shared her secrets of success with other nannies in our team meeting and it was hands down the most valuable session of the evening! She is loved by everyone who has the pleasure of her caring for their children and is a loving mama to her own son. Genny, we are so fortunate to have you on the team!
Describe your background and education in the childcare realm and beyond.
I was the Lead Teacher in an infant daycare room, in charge of the care for a total of 10 infants. I'm also a strong advocate for breastfeeding and all the information needed to make it a less stressful or scary experience for any mother looking to have success.
What is your favorite part about being a nanny?
I love getting to know the kids each as their own person. I enjoy playing and teaching them new things and just watching them explore the world around them.
Describe your childcare philosophy.
Patience and imagination are what's needed to flourish in this job and as a parent. I believe it is important to play at their level and remember they are still learning.
What are your hobbies and passions outside of being a nanny?
I love being outdoors—whether it's on a hike, camping, fishing, or hunting. I also love arts and crafts such as crocheting, sewing, puzzles, and drawing.
What is an interesting or fun fact about yourself?
I am the oldest of 9 girls. I've ridden a helicopter 3 times and someday want to learn to fly one!
Here are a few things our backup care clients have said about Genny lately:
"Our boys love Genny (and so do we!). They talk about her for days after they see her. And anytime we mention getting a nanny, they asks if it will be Genny"… "[She is a] fun, caring and responsible person to be in company of your child"…. "She is very experienced and an awesome nanny! I would highly recommend her to others. She was excellent and we appreciated her thorough notes"… "She was so sweet, and kind- very personable and wonderful with our kids.  We were so happy to have met her and we will be requesting her again!!"
[ss_social_share]