In honor of the new year, we wanted to share some new (and familiar!) faces with you as we introduce our team and celebrate the relaunch of our blog!
Addressing the Negative
This last year has meant a lot of changes and some growing pains for A Nanny for U.  Being a stalwart advocate of open and honest communication, we feel it our duty to share with you what this past year has meant for A Nanny for U.  In 2016, our incredible owner Rebecca Dyk experienced some tumultuous life changes that not only shook her personal life, but also her professional one (after all, the two are very much intertwined, are we right?).  Because of this, A Nanny for U was a company functioning without a leader.  While many of you may not have noticed a shift from the norm, we also know that others could sense a departure from the award-winning personalized approach to customer service that we have come to be known for over the last 22 years.  If you were one of those people, Rebecca and all of us here at ANFU sincerely apologize.  Please make sure to reach out to us with any feedback, so that we can address it and prove to you that we are back on our "A-game" and stronger than ever!
Bring it On, 2017!
With a tough year behind us, we are starting 2017 with so much excitement for what's to come!  While we will still be guided by the vision of our fearless owner, Rebecca Dyk, we are thrilled to share with you that Kristin Tillack (formerly Wightman) has recently taken over as our Director! Kristin, a familiar name to many of you, returns to ANFU after a 5-year hiatus spent sharpening both her business and parental skills.  Check out our interview with Kristin below!
Up Close & Personal With A Nanny for U Director and Mother of Two,
Kristin Tillack (formerly Wightman)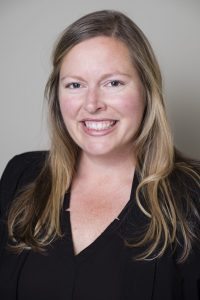 1.  What was it that brought you back to lead the team at A Nanny for U?
After having kids of my own and watching many of my friends (and even myself!) face challenges in finding the right childcare and support for their family, I was reminded what an important role A Nanny for U has in tackling this feat for families in the Seattle area. I was fortunate to work for and lead the A Nanny for U team years ago, so when considering career options post maternity leave and learning that there was a need I was confident I could fill, it was a no-brainer! During my five year hiatus, I completed my MBA degree and shifted industries to Tech (so Seattle, I know). I have always been in the business of coaching, teaching, learning, and striving for greatness—whether that was in my 2nd grade classroom as a teacher or in our ANFU office. What I love about this organization is that we aim to solve problems on both sides of the hiring spectrum. From the employee perspective, we are elevating the nanny career and advocating for our nannies to work for employers who value and trust them. For our clients, we don't settle for anything less than the best! This takes time, intentional recruiting, vetting, and building strong, personal relationships on both sides. I couldn't be more excited to be back and specifically because I am working alongside a team that holds themselves to these high standards!
2.  What makes working at ANFU unlike any other place?
It's such a unique culture! Not only are we very entrenched in the personal lives and family dynamics of our families and nannies, but we are super tight in the office. There is no hiding a bad day, which I really like because it encourages authenticity and vulnerability among our team. For an extrovert like myself who loves meeting new people and striking up conversation, it's the ideal workplace because we get to meet new nannies and clients every day and learn about what makes them tick. No day is like the one before because every person we meet is unique. I also love the small business atmosphere because we can respond to the market quickly, innovative ideas can be implemented without delay, and every person who works for ANFU makes a significant impact on the success of the business and the families we support.
3.  Share with us one New Year's Resolution you have for 2017.
Read more, worry less.
4.  If you could give families and and nannies one piece of advice, what would it be?
Communicate early and often when issues arise—and have scheduled times set aside for conversations and reviews.  The nanny / parent relationship is very intimate and unique. It's not quite like managing an employee in your corporate workplace, yet it's not family where you can say whatever is on your mind (at least that's how it is in my family!). I often hear an uncertainty from both sides about whether they should communicate what they are feeling. The answer in most cases is absolutely yes. Parents are often afraid of upsetting their nanny or "rocking the boat" and nannies can be nervous to share challenges because they don't want to cause conflict or give the impression that they are unhappy in their job. If both sides are coming to the table with the same goal (whether that be the best care, love, and stimulation for their children or keeping the household running smoothly and efficiently), then being open about differences or challenges will strengthen the relationship and allow for greater success in reaching that objective.
5.  Finish this sentence:  On the weekends, we will likely find you…
…hiking in the mountains or on a weekend getaway. Of course, that is mainly in the summer so In the "off season" you'll find me bundled up and playing with my kids at our nearby waterfront park.
6.  What are you known for?
Saying what's on my mind, laughing at life and myself, making quick decisions, and getting the job done.
7.  What is the funniest thing that happened to you recently?
Oh, I'm sure it has something to do with my spunky daughter, Emerson. She's at that age where she parrots most everything we say and it's not always in the right context which makes for some great comedy around our house.
8.  Being from Southern California, you must be craving warmer winters right about now! What is it about Seattle that has kept you calling it home since 2007?
I love the green lush scenery, the strong city culture, diversity, and unity (go Hawks!), and the proximity to amazing outdoor adventures. Plus, there is water everywhere you turn so it feels like home near the ocean.
9.  With two young, energetic kiddos at home yourself, what's your secret to keeping not only clients' households running smoothly, but also your own?
For me, it's a great partner—whether that is a nanny, spouse, or both. My husband, Bryce, is extremely supportive and engaged in parenting and running our household. I couldn't do it without him. As we are both full time working parents, we are intentional about being present when spending time with our family.  We divide and conquer feeding times, bath times, and bedtimes so that we can put our feet up and enjoy some adult time when the kids go down.
10.  You're a new addition to the Crayon box.  What color would you be and why? 
Ocean—dark blue that looks green in the sunlight.
11.  What inspires you?
Beauty in nature, growth, vulnerability, moms who don't sweat the small stuff, and people who take action against injustices to make the world a better place for all humans.
Thanks, Kristin, for being silly, vulnerable and sharing your wisdom with us!  Be sure to check out next month's blog, where we will introduce another awesome member of our team…Abbie!
Image source:  Giphy
[ss_social_share]